synthetic teak decking with isiteek
WATCH THE ISITEEK INSTRUCTION VIDEO →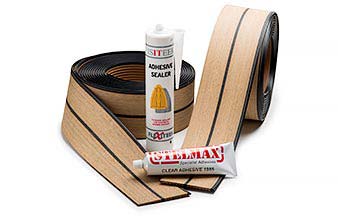 Isiteek – synthetic teak decking. Isiteek is a DO-IT-YOURSELF product and is suitable for building simple panels. Isiteek is made of composite materials, 100% recyclable in to other products. Isiteek add safety with its non–slip quality. Nobody, yet, on first viewing or touching think it is anything other than real teak. You can enjoy your beautiful deck instead of worrying about maintenance and poor quality.
Weight = 5 kg per m2
Thickness = 4 mm
BENEFITS OF HAVING AN ISITEEK DECK:
No screw holes- Isiteek is glued to the deck.
Low maintenance.
Excellent non-slip surface. Wet or dry, Isiteek provides amazing grip in the toughest conditions (ASTM D 4518).
Stain resistant, soap and water will remove most spills easily (oil, fuel, red wine, fish blood etc).
Isiteek does not turn grey or fade.
UV tested and proven UV resistant.
Reduces sound and noise.
Low combustibility (Flammability tested to AS/NZ 53837).
Isiteek comes with a 3 year material guarantee.
Environmentally friendly. No need to exploit our worlds beautiful rainforests.
ISITEEK™ is protected under the Flexiteek patent and it has a three year material guarantee.
Build your boat deck in three easy steps: